Summer Meal Distribution Update 6.24.2020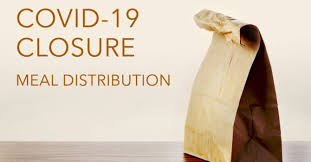 ---
Dear Sterling Community School families,
We are pleased to announce to the Sterling community that Free Breakfast and Lunch will continue to be provided to all students and their siblings under the age of 18 beyond June 29, 2020. Please take note of the following information:
Monday, June 29, 2020, from 7?30 am to 9:00 am meals will be distributed for two days

Food Services will be closed from Tuesday, June 30, 2020, through Monday, July 6, 2020.

Meal Distribution will resume on Tuesday, July 7, 2020, and will follow the following schedule:
Summer Breakfast and Lunch Distribution schedule
Tuesdays, 9:00 am - 10:00 am (3-days of meals will be provided)
Fridays, 9:00 am - 10:00 am (4-days of meals will be provided)
This schedule will continue through August 31, 2020, or the first day of school, whichever comes first.
Meal pick-up will continue to be located behind Sterling Community School by rear cafeteria door entrance.
The following meal pick-up procedure will be in place for families picking up meals:
Line up in cars behind Sterling Community School as usual.

Please Do Not Leave your vehicle

Tell us how many children in your care that need meals.

Wait in the vehicle until our meal service staff brings out the meals and places them on a table.

Our meal service staff will walk away and you can leave your vehicle to pick up the meals on the table and return to your car.
Please visit the school website for the most up to date information on what is going on at Sterling Community School. Please follow Sterling Community School Twitter by using the handle @sterling_school
Sincerely,
SCS Administrative Team
Website: www.sterlingschool.org
Follow Sterling Community School on Twitter: @sterling_school